Open Protocols and Internet Abstraction Hierarchy
This page is
ready for review
(reviewed by bh).
I've added the FTYD and editted the "Internet Abstraction Hierarchy "take note" box since BH's review. --MF

reviewed again by bh. Where has DNS gone?? This is important to the AP standard.
So far, you've learned about three Internet protocols:
HTTP: HyperText Transfer Protocol—the protocol that your computer uses when accessing an HTML web site
IP: Internet Protocol—the protocol that manages routing (finding paths to distant computers)
TCP: Transmission Control Protocol—the protocol that assures reliable transmission of data
There are a lot of protocols! Here's a picture from Wikipedia:

You don't have to know about all of these!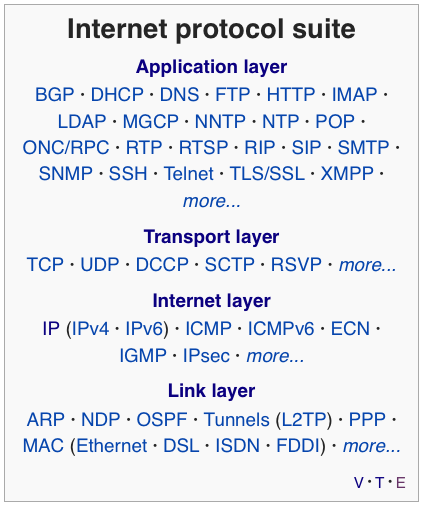 These are all open standards, which means that anyone can look up their details and build them into new hardware and software without getting permission. (For example, here is the IPv4 specification, but don't read it now.)
(Before the Internet, there were several different network protocols that were secrets belonging to particular manufacturers. So if you had a particular brand of computer or router, it could talk only to other computers of the same brand.)
Open protocols are another reason why the Internet is scalable.
The Internet is probably the largest and most complicated artifact in human history. And it relies on cooperation. Just think:
You can send email to someone in a country that's considered an enemy of your country (from the US to Iran, for example).
An engineer at Microsoft can read a web page at Apple even though their companies are competitors.
Your T-Mobile cell phone can talk to your friend's Verizon phone.
Despite some governments' attempts to censor the net, the big picture is one of strong cooperative spirit!
Internet Abstraction Hierarchy
There are billions of devices connected to the Internet, and hundreds of different kinds of devices: laptops, tablets, phones, refrigerators, handheld credit card readers that the waiter brings to your table at the restaurant, and so on.
How do they all know how to talk to each other? The Internet was designed with several levels of abstraction. Here's an only slightly simplified picture:
Internet Abstraction Hierarchy
Application Protocols (like HTTP)
Transport Protocols (like TCP)
Internet Protocols (like IPv4 and IPv6)
Network Interface Hardware (like WiFi)
These layers are are least abstract at the bottom and most abstract at the top.
Application Layer Protocols are the ones that give meaning to the bits sent by the lower-level protocols. The client and server computers have to agree about what the bits mean, and application protocols offer this.

Examples: You've learned about

HTTP

, the HyperText Transfer Protocol used by Web browsers to interpret information from a web server. You may also encounter FTP (File Transfer Protocol), which is used for sending or uploading files. And you probably regularly use SMTP (Simple Mail Transfer Protocol) to send email and IMAP (Internet Message Access Protocol) to read your email.

Transport Layer Protocols provide the abstraction of a message to a particular program on another computer, built out of the packets actually transmitted by IP (which knows about computers, but not about which program is awaiting a packet).

Examples: You've learned about

TCP

(Transmission Control Protocol), which simulates a reliable, long-term connection between application programs on the endpoint computers, but not all application-level protocols use TCP. Sometimes speed of delivery is more important than guaranteed correct delivery, and for that there's UDP (User Datagram Protocol), which is used, among other things, for real-time video streaming, in which a missed packet doesn't noticeably affect the viewer's experience of the video.

Internet Layer Protocols manage the pathways that the data packets travel across networks. These protocols implement the abstraction of one large network, even though the hardware reality is many tiny subnetworks.

Examples: You've learned about two versions of

IP

(Inernet Protocol) addressing: IPv4 and IPv6. Also in this layer are protocols that routers use to talk to each other, for example, to detect and work around points of network congestion.

Network Interface Hardware: All Internet devices connect through some kind of physical interface that uses a protocol to connect to the local network. These local protocols are the least abstract because they deal directly with your particular hardware connection.

Examples: There might be an Ethernet cable in a socket on the side or back of the computer (looking like a telephone jack but wider). Or perhaps there is a WiFi antenna inside the case connecting to your network router box by radio. Your cell phone uses a longer-range cellular connection to your phone carrier. Each of these kinds of network hardware has a different protocol for sending messages. This is called the "Link Layer."

Review and improve your understanding of the abstractions of the internet:
What is the Internet?
How is the Internet set up?
What are some of the abstractions in the Internet?
How does digital information get where it needs to go?
What are protocols? What do they do for the Internet?
What are some examples of protocols and how do they work?
What features of the Internet help it to grow and evolve?